Dear FCCPS Families,
We had a fantastic reopening with our Kindergarten and 3rd students this week! Thank you to our teams at Thomas Jefferson and Mount Daniel for all of their hard work and dedication! As we reopen with our "next wave" of Elementary students on Tuesday, we do so with excitement and caution as we move forward. We continue to monitor our data and the impact of COVID here in our city.
We remain in "moderate" despite slight increases in cases and % positivity across the region. Our weekly call with the Fairfax Health Department again reiterated that we do not see a surge here in NOVA but a continued mild incline. Their epidemiologists monitor the data very closely.
Impact of COVID Cases on FCCPS:
I know there has been some concern regarding pausing, exposures, contacts, positive cases, and quarantines across the community. The informal communication networks are going strong. However, the information that is sometimes shared is not always accurate. Additionally, we must respect the privacy and confidentiality of health information for employees, students, and families as we balance the need to know of our broader FCCPS community. Please know that we are working to be transparent regarding any impact of COVID on our division. If there is a case that impacts our schools, we will responsibly share information. Below is a summary of the COVID Positive Cases Impact Data for our division since reopening in August.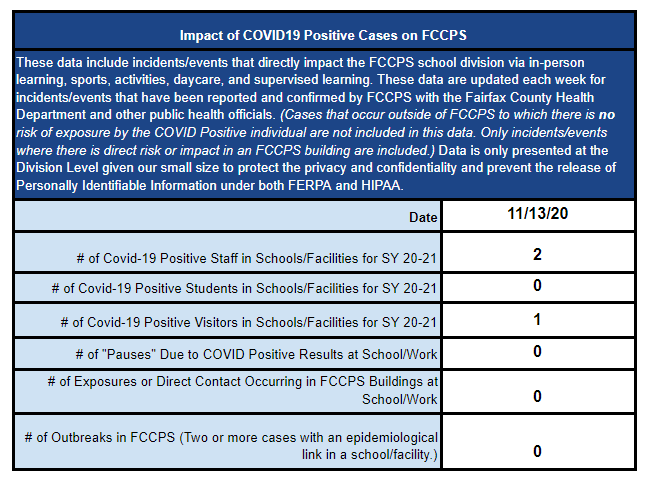 These data above shows we have had three (3) COVID positive cases in FCCPS since August. However, there have been no associated exposures, outbreaks, or pauses. Again, you may "hear" of a quarantine or exposure - but that does not mean there is an impact on our schools. If there is an impact, we will share the relevant information with the school community - as we have done in the past and will continue to do in the future.
Steps to Take When: a student is ill, has been exposed or tested positive:
As we move forward with the pandemic, please know there are stricter guidelines for school health to prevent disease spread. We have developed this infographic to help support families as they work through some of the issues they may be facing due to COVID. It covers "WHAT SHOULD I DO WHEN…"
My student is ill or has COVID-Like symptoms?

My student has been a close contact or exposed to someone who might be, or is COVID positive?

My student or someone in my household has tested positive?
We hope you find this tool helpful. You can download and view this on our webpage using the link below:
What Should I Do When… Infographic
Mitigation is Critical--Don't Relax:
Masks, social distancing, hand washing, staying home when ill, and not touching your face significantly reduce risk. This is especially critical during these times when a majority of the country is experiencing a surge. While we do not see a surge here, according to FCHD, we see a slight incline in the numbers of cases and % positivity, which is impacting our regional data. Several of our dials moved into red. However, our overall composite from the Virginia Department of Health (VDH) remains moderate, as does our metric for transmission burden. We see increases in the trend score used by VDH due to the case numbers and emergency room visits.
Monitoring the Data & Updates to the Dashboard:
Please know that we monitor the data daily and stop our "dial-up" of our reopening process if needed. This decision is not based on one or two pieces of data. It will be based on a holistic view of the data, guidance from public health officials, and our ability to leverage small group size coupled with our mitigation measures following the CDC guidelines/thresholds for reopening. There are now NEW school pandemic data points available for our school division. Those are also being added to our dashboard in the coming days as a part of our updates. Here is a preview of the School Metrics for FCCPS: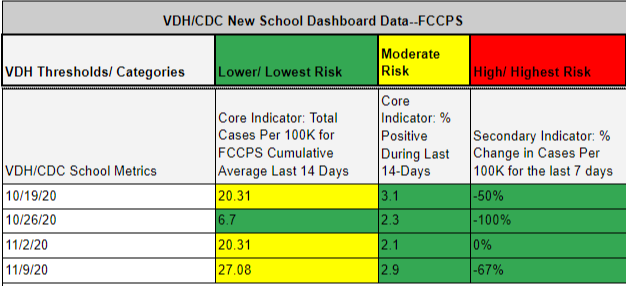 Data Source: https://www.vdh.virginia.gov/c...
Note: School Metrics are reported in 14-day rolling averages, while overall pandemic metrics are reported in 7-day rolling averages. FCCPS Data can fluctuate in % change of cases given our small size. Note: The Core School Metrics are reported in 14-day rolling averages, while overall pandemic metrics and Secondary Indicators are reported in 7-day rolling averages. FCCPS Data can fluctuate in % change of cases given our small size. More information regarding the CDC thresholds can be found at https://www.cdc.gov/coronaviru...
Monday, as we updated the dashboard, an issue was discovered on the checklist. For the last several weeks, the checklist's standards did not include the text "moderate" and was corrected. We have always used "moderate" as our standard for reopening in a hybrid as a part of our reopening continuum. That information has been clearly at the top of the dashboard in our continuum. This issue impacted the checklist standards, not the data itself. All of the dashboard data points have always been accurate, and nothing changed during the update. We appreciate those who monitor the dashboard and share their feedback.
Secondary Reopening Reminders:
Our efforts continue as we plan for our Secondary reopening as well. Please remember to complete your intent form for your students in grades 6-12 as soon as you can. All responses are due by November 20th. You can access the form here: FCCPS Learning Intention Form --- Formulario de intención Secundaria de FCCPS. Details for the plan can be found on the Secondary Reopening Plan web page. If you have additional questions for Mary Ellen Henderson or George Mason High School, please email us at reopening@fccps.org.
Final Thoughts:
These next few weeks are incredibly important. We have reopened successfully with our Special Populations students, our kindergarten and third graders. We anticipate the same positive outcomes for remaining elementary grade students as we complete our second wave of return.
We all must be flexible and patient. Sometimes information changes, and we must adjust our responses. There are no simple solutions in this adaptive new environment. No one has done this before; every step we take as a community is new. There will be bumps, but together we will get through them.
Thank you for all you do and your dedication during the trying times for us all.
All my best,
Peter